FY20 certainly has been an interesting year…
To quote Albert Einstein, "In the midst of every crisis, lies great opportunity." This CASA organization would not allow a worldwide pandemic to stop our advocacy for children in need.
At the beginning of March CASA responded with agility by quickly re-setting our operations, and by March 18th we closed the CASA offices with protocols for all staff to work remotely. Zoom accounts ensured face-to-face connections for staff and volunteers in weekly meetings and chat groups.
CASA volunteers were notified to stop in-person visits and begin checking more frequently with the children and families via video-chat, and phone calls. Our volunteers responded quite creatively to connect with children virtually by reading them books; playing games; assisting with online learning; sharing music playlists; sending recipes to then cook and bake while on Facetime or Skype; and keeping in contact with the children's caregivers to find out how CASA could assist. CASA volunteers, who have their own families and work responsibilities, found the resourcefulness to ensure that their assigned children were safe and well cared for.
Our organization stretched beyond our budget to provide laptop computers for online learning, therapies, and family connections. We then proceeded to make deliveries of essential items including diapers; formula; and supermarket gift cards. Books, bicycles and helmets, board games, craft items, and educational items were also delivered to door steps to keep children safely engaged.
By July we resumed in-person visits and our volunteers were provided with masks, hand sanitizer, and a strict protocol for visiting children and families. Having eyes on these vulnerable children and being able to have physical contact, even with distancing, allowed our volunteers and staff to understand their critical needs.
Although New Jersey courthouses have been closed since mid-March, our family court hearings have taken place via a virtual platform. CASA volunteers continue to prepare comprehensive reports to the court and all involved parties, for each of their assigned children. They report on the status of the child and family. The judges depend on these reports, now more than ever. Our Family Judges wrote letters of appreciation to all of our volunteers in April for National Volunteer Appreciation Month.
"As I often indicate when I have the honor of swearing in new CASA volunteers; the only truly objective voice presented to the Court is that of the CASA. Thus the Court has come to depend on the comprehensive and thorough reports of our dedicated volunteers." The Honorable Michael Paul Wright, J.S.C.
As the COVID-19 pandemic raged on, unfortunately, CASA at the ZOO, our family fundraiser at Turtle Back Zoo had to be cancelled. We needed the support of our donors more than ever. And, you came through for us!
In addition to donations from our community a very creative group of students and teachers from the West Morris Mendham High School's Service Club created a virtual event, Service for Shenanigans, incentivizing charitable donations with a comedic twist.
Your donations throughout the year provided tutoring for children who struggled with online learning; bought bicycles, helmets, and outdoor activities to keep children occupied during the summer months; and allowed us to continue to recruit and train volunteers to be advocates and mentors for children in foster care who truly need a champion.
The CASA Community of donors, volunteers, board, and staff will not stop our work until the time when all children are protected from harm, live in a permanent and stable family environment, and receive the services that will meet their developmental, educational, physical, and mental health needs. Together We Can Change a Child's Story.
Lisa Barsky Firkser, Ph.D.
---
THREE HEARTS, ONE FAMILY

Right here in our community there are children who have been abused and neglected and are living in the shadows of our lives. Lara was the CASA, a Court Appointed Special Advocate, for three of these children - Matthew, Emma, and Ava
---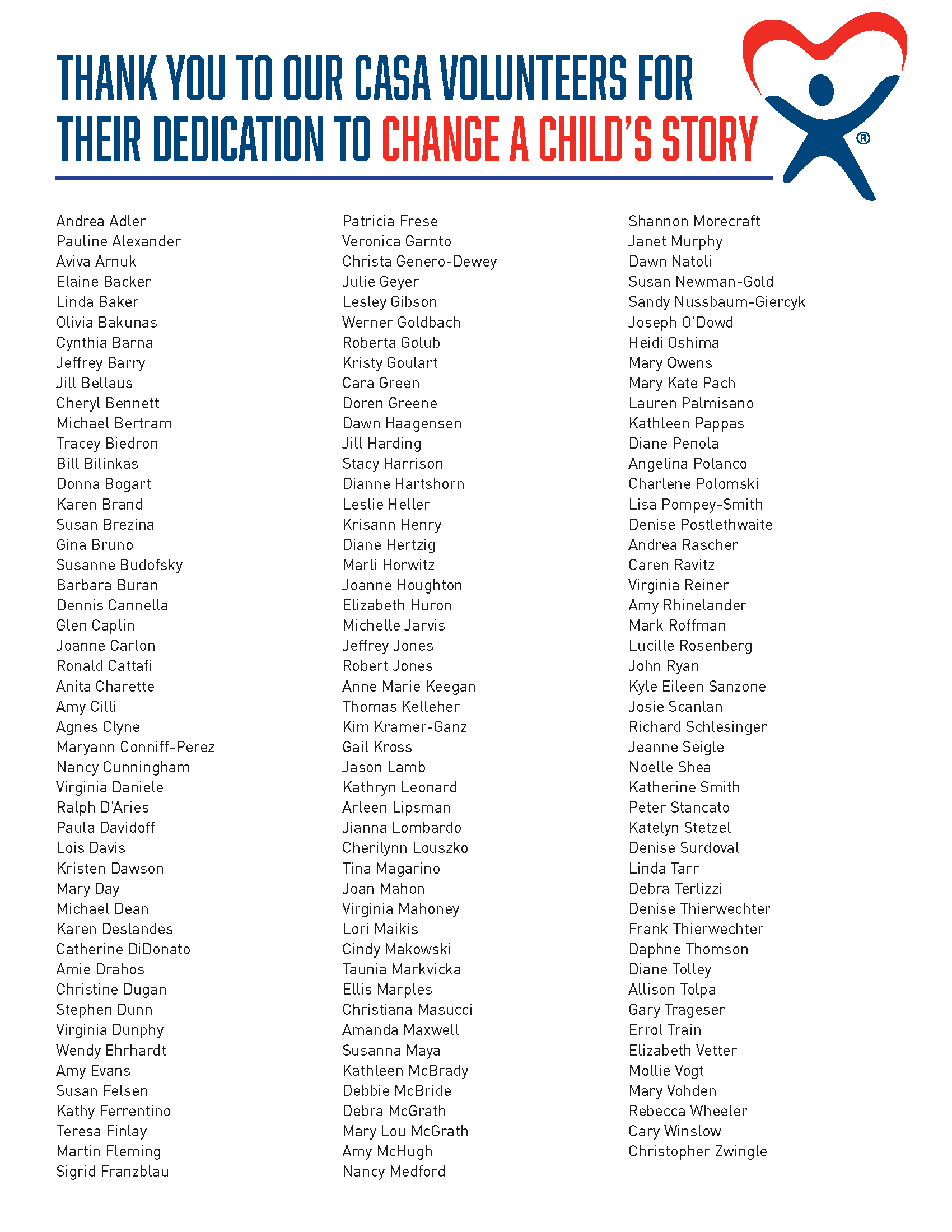 ---
HOW YOU CAN HELP CASA:
Attend an Information Session to learn the process to become a CASA volunteer to advocate for a child.

Make a tax-deductible donation of cash or appreciated securities.

Ask your employer to match your gift to CASA.

Honor a family member or friend by sending a tribute card: in memory of, in honor of, thank you, happy birthday, etc.

Include CASA in your Will or Estate Plan.

Become a member of the CASA Board of Trustees 
---

---