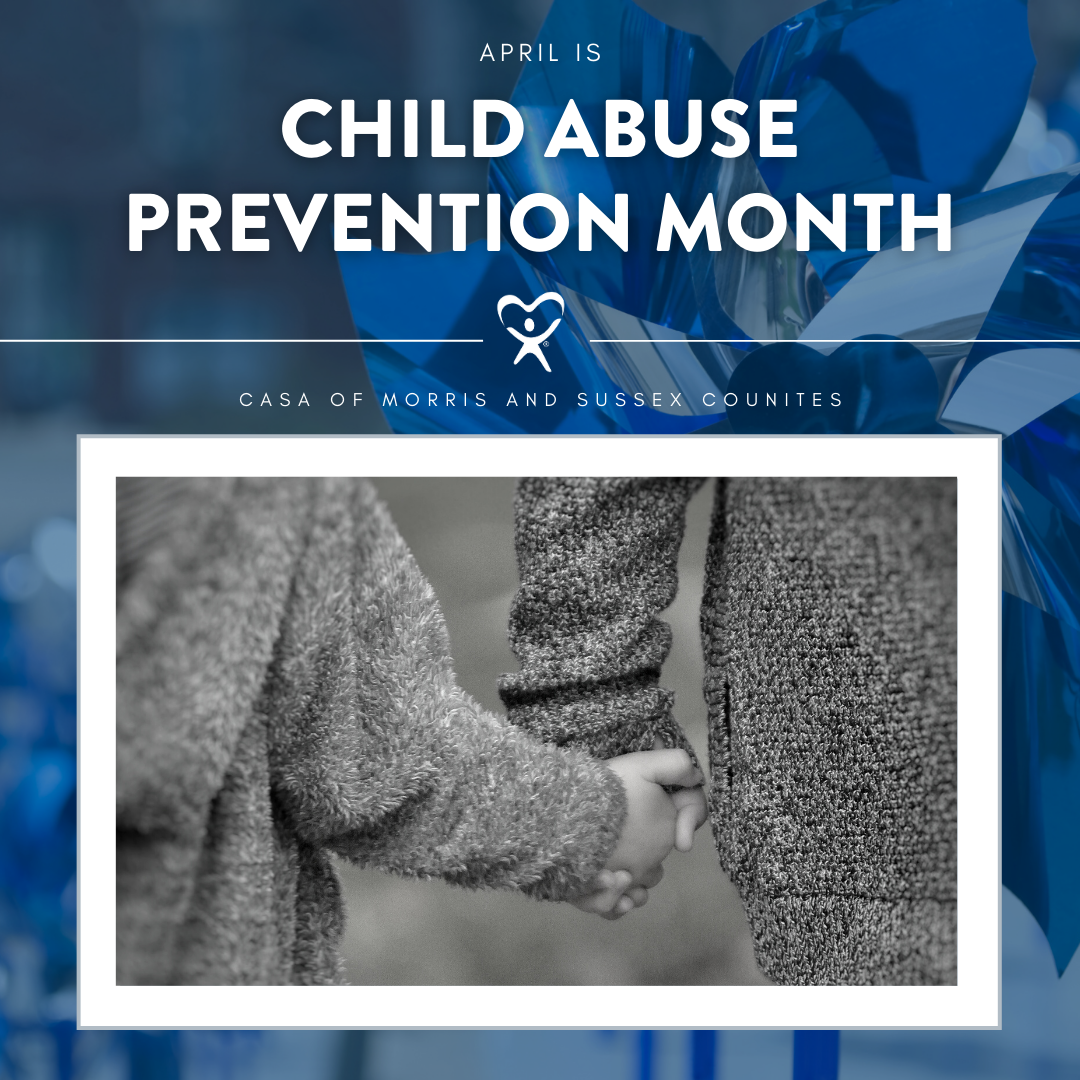 By the end of today, approximately 1844 children in the United States will become victims of abuse and 5 of these children will have died at the hands of their abuser. These statistics are not for shock value. They serve to illustrate the sobering reality for thousands of children in desperate need of our protection and support.
The month of April is designated as National Child Abuse Prevention Month, a topic aligning with the mission of CASA of Morris and Sussex Counties. CASA Volunteers dedicate their efforts to advocate for the best interests of children in foster care who have suffered abuse and neglect. While we continue to make strides in advocating for the youth in our communities, they, now, need our support more than ever.
Throughout the pandemic, the number of child abuse reports and removals have dropped significantly. This is not to say child abuse has lessened in the past year, but rather  disappeared dangerously under the radar. With increased home isolation and limited visibility by school teachers and personnel,  it is very difficult to detect red flags for child abuse and/or neglect.
In many cases, child abuse is by the hand of someone the child knows and trusts — often a parent, relative, or even a family friend. Because of this personal relationship, a child who's being abused may feel guilty, ashamed, or confused about their mistreatment. He or she may be afraid to tell anyone about the abuse at the risk of repeated violence or being removed from their family/home.
This form of maltreatment can manifest in a child's home for a variety of reasons. Risk factors associated with child abuse and neglect include financial stress, substance abuse, physical and/or mental health issues, and prior history of childhood abuse.
Abuse and neglect can carry negative effects far beyond childhood. Victims of child abuse are more likely to face future violence victimization and, become engaged in criminal activity, experience homelessness, and even repeat the cycle of abuse with their own children.
Vulnerable youth need our support and while everyone can't be a CASA Volunteer, everyone can be a child advocate.
Here are some steps you can take to make our community safer for children:
If you suspect a child is being abused or neglected, you  MUST report your suspicions to 1-877 NJ ABUSE. You can do this confidentially, without giving your name.
Donate or volunteer for a social service agency that helps children who have been abused or neglected.
Educate yourself and others about the devastating trauma that abuse and neglect has on children and our society as a whole.
When we advocate as a collective, we show vulnerable children that there is more to life than suffering. Together we can Change a Child's Story.
---
Resources:
https://www.mayoclinic.org/diseases-conditions/child-abuse/symptoms-causes/syc-20370864#:~:text=Risk%20factors&text=Physical%20or%20mental%20illness%2C%20such,Financial%20stress%2C%20unemployment%20or%20poverty