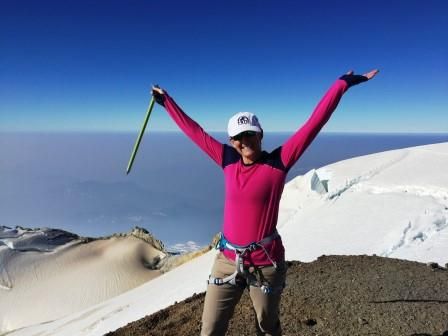 October's Volunteer Spotlight shines on Stacy Harrison, who is currently serving as an advocate on her first case. Stacy was sworn in with the February 2017 class; her current case concerns biological siblings, ages 6 and 3, living in a non-relative resource home.
"I feel that volunteer work is important not only for those I am helping but for myself, my children and community as well… In addition, there is no mistaking that it feels good to help others. By getting involved, and not just talking about helping, it shows my children and the community how important it is to give back to others. I believe volunteering teaches many lessons, such as helping others, acceptance, diversity and kindness."
The case's current permanency plan is reunification; the children's parents and grandparent both suffer with substance abuse. "In my case, I believe one of the most important roles I play directly to the children is being a consistent figure in their lives," Stacy said. "In addition to working with the children, I also enjoy speaking with others on the case and gathering the necessary information and then making sure that the children's needs are being met."
She also noted that a favorite part of her advocacy work is seeing the two kids and watching them be just that—kids—while they play together. Often, vulnerable children in foster care are parentified while the simplicity of childhood is lost.
Stacy is no stranger to working with tremendously vulnerable children. She spent her professional career working with emotionally disturbed children who had to be removed from their biological homes. "CASA has reignited my passion for helping, especially with children who need a voice. Being a volunteer with CASA has reminded me of how much these children need support, nurturance and consistency," Stacy said.
"Stacy is a wonderful volunteer who truly connects with the children she advocates for. She has a good sense of their needs and concerns," said Eve Cella, Case Supervisor. "And, Stacy is an avid outdoors woman and has shared with me her remarkable rock climbing adventures. She is an inspiration!"
Stacy added the newfound knowledge of the system that accompanies her advocacy. "CASA has also given me insight into the issues of all family members involved," she said. "I have seen the frustrations, struggles and ongoing cycles that are created. I have developed a great sense of empathy and a greater understanding for those struggling. In addition, I have met some genuinely amazing people, including the resource family, various professional staff, caseworkers and many others who work hard in the best interest of these children."
Thank you, Stacy, for your enduring dedication to vulnerable children in need of a voice, and for your continued strength as a volunteer advocate.