Because of YOU, we are changing a child's story.  
Dear Friends of CASA,
We are very proud to be part of CASA of Morris and Sussex Counties, an organization of remarkable donors, supporters, trustees, staff, and volunteers. We are very fortunate to meet so many wonderful people through our work at CASA. It constantly amazes us to witness the time, energy and passion that CASA volunteers give to the children they serve. And, we are consistently overwhelmed by the generosity of those of you who support CASA through your donations.
CASA of Morris and Sussex Counties is the only CASA program in New Jersey, and one of the few in the country, serving 100% of children in foster care in our assigned counties. Our organization answers the call to embrace and protect children exposed to abuse and neglect. We believe that the protection of our children is a moral obligation for our society. We will continue to work each day to ensure that these children receive the attention and services they need to heal. Our CASA volunteers are making a difference, in small ways and in heroic ways… it all adds up to changing a child's story for the better.
As we move into our organization's 33rd year, we will endeavor to keep the best interest of children at the forefront of everything we do. We are expanding the services we provide and piloting new initiatives to give our volunteers and staff the tools and resources they need to take advocacy for children to the highest level. Children in foster care deserve nothing less.
We want to express a heartfelt thank you for your continued support as we all work together to ensure that all children have a safe, loving, and permanent home. With your help CASA of Morris and Sussex Counties will continue to be a strong force in the community to make this happen.
Sincerely,
Skippy Weinstein, Esq.

Lisa Barsky Firkser, Ph.D.
---
ETHAN'S STORY

Ethan was just five years old when he was taken away from his mother in a police car. Through four foster homes in four years, his CASA never left his side.
"Tell the judge I want to be adopted"
– Ethan, 8
---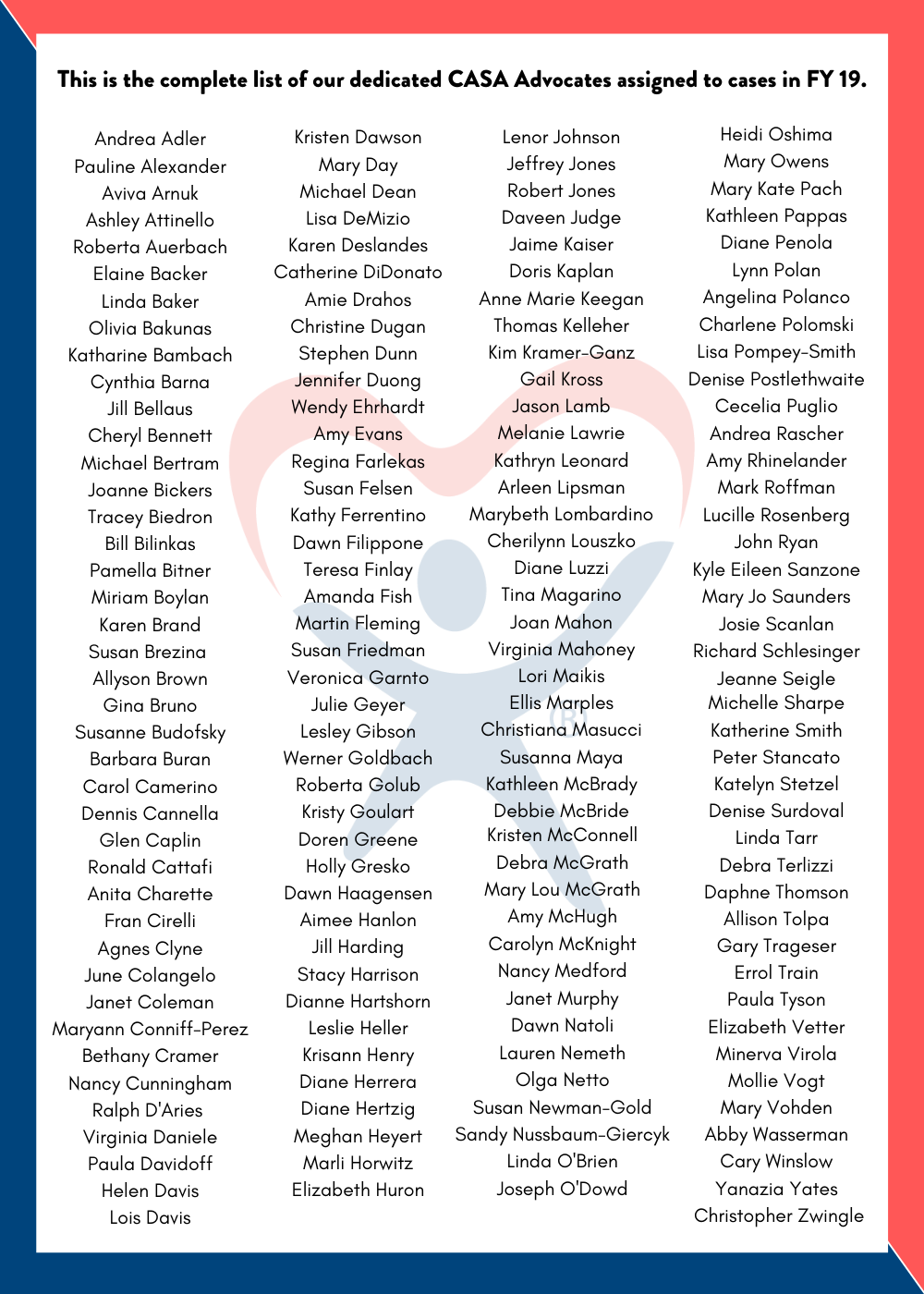 ---
HOW YOU CAN HELP CASA:
Attend an Information Session to learn the process to become a CASA volunteer to advocate for a child.

Make a tax-deductible donation of cash or appreciated securities.

Ask your employer to match your gift to CASA.

Honor a family member or friend by sending a tribute card: in memory of, in honor of, thank you, happy birthday, etc.

Include CASA in your Will or Estate Plan.

Become a member of the CASA Board of Trustees 
---

---